Custom Church Feather Flags and Rectangle Flags for Church Events
The church is a special place where people come together for divine reasons. It's important to make everyone feel comfortable and welcome during these events. In this blog, we'll explore how to use custom church feather flags and rectangle flags to improve church gatherings. 
These flags might not seem like a big deal, but they can make a big difference. They help guide people and make the church look nice. You'll see how these flags can make church events more enjoyable and engaging.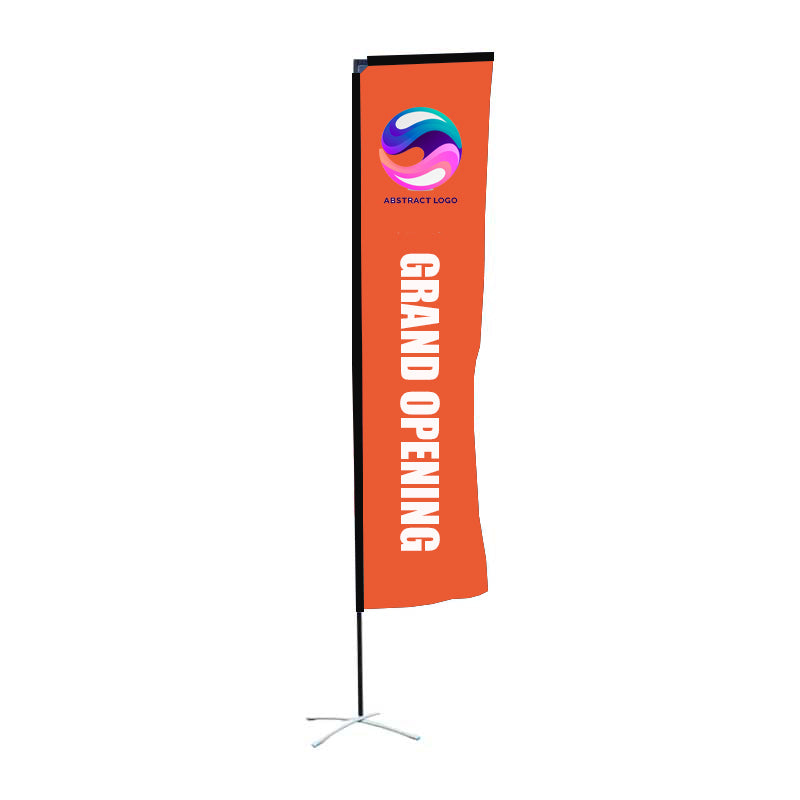 The Role of Custom Church Feather Flags in Creating a Welcoming Space
Imagine walking into a church event, and the first thing you notice is a set of custom church feather flags gently swaying in the breeze. These simple yet powerful flags have a remarkable impact on creating a warm and inviting atmosphere for everyone.
Church feather flags guide attendees during events. They help people find their way, whether it's to the entrance, an important area, or simply to add a touch of familiarity to the surroundings. These flags provide a visual anchor, making attendees feel more at ease and welcome.
They can be customized with meaningful designs, colors, and messages that resonate with the church's values and mission. These flags not only make the church look inviting but also convey a sense of purpose and unity.
Rectangle Flags Banner from Cusdisplay Shop
Now, let's explore our rectangle flags and how they can enhance the ambiance and aesthetics of church events and gatherings.
If you need to share a lot of information, these flags are the perfect choice. They provide a much larger print surface, allowing you to communicate your message effectively. Rectangle flags come in various sizes, with 3 standard lengths to choose from, providing ample space to get your message across. 
Whether it's text, logos, or full-color graphics, these banner flags are an incredible way to grab your audience's attention and inform them about important church events, sales, special gatherings, and more.
Available Sizes 
When you choose rectangle church flags from Cusdisplay Shop, you're investing in an all-inclusive set. This set includes the printed flag, the pole, and a base to keep it steady. You can select from 3 sizes: Small, Medium, and Large, with dimensions of S (270cm long), M (330cm long), and L (430cm long). These flags are perfect for church events, ensuring your message reaches a wider audience.
High Quality Knitted Fabric
Our rectangle flags are printed on high-quality 110g knitted fabric, resulting in vibrant and eye-catching full-color dye-sublimation printing. They are available with ground spikes and cross bases to suit different applications, making them suitable for both indoor and outdoor church gatherings. The best part? You can easily assemble them without the need for any special tools.
We also offer the option of single and double-sided printing, allowing you to choose the style that best suits your message. Order today!
Customizing Church Feather Flags
Our feather flags offer an array of options to showcase messages like "Bible Study," "Sunday Service," "Welcome," "Worship with us," or any other text or image that aligns with your church's mission.
We create these flags on-demand for congregations, providing you with a significant advantage. Why? Because this customization allows you to tailor the flags for special events, such as Vacation Bible School (VBS), summer outings, Easter and Christmas celebrations, and more. They are also a fantastic way to attract non-regular attendees to your events, like bake sales and community-focused outreach programs.
High Quality Material
But it's not just about the message; it's also about the quality. Our feather church flags are crafted from high-quality materials designed to withstand even the toughest weather conditions. The pole kit options we offer include all the necessary hardware for easy mounting. While some custom-made banner flags may need to be taken inside during excessively inclement weather, in general, these flags are an excellent tool to raise awareness among your congregation.
So, what's included in the package? 
When you opt for our Church feather flags, you get a complete set that includes a Flag Pole (made of durable Aluminum and Fiberglass), a Printed Flag tailored to your preferences, a Base (choose from Spike Base or Cross Base, the latter with a water bag for added stability), and a handy Carry Bag for easy transport and storage.
You can choose between full-color printing for vibrant visuals. You can opt for single-sided flags made from 110g polyester or double-sided flags with a clever middle layer that blocks out light to prevent see-through. The edge stitching ensures that your flags are durable and long-lasting.
Size Options
Additionally, you have the flexibility to choose from four different sizes to best suit your needs: 50x200cm (small), 60x250cm (medium), 70x340cm (large), and 80x410cm (extra-large).
These custom flags are suitable for a wide range of applications, both indoors and outdoors. You can rely on the durability of our poles, which are available in both aluminum and fiberglass options.
For more insights and industry-related information, feel free to visit here at TSNN (Trade Show News Network), a leading resource in the event and trade show domain.