From Trade Shows to Sports Events: Logo Tents That Stand Out
First impressions matter. So a smart presentation of your brand that grabs an immediate attention is important. Imagine your logo, vivid on a customized tent that represents your business at its finest. Such tents do more than offer shelter; they create an indelible mark on the minds of visitors. 
In this blog, we'll discover how logo tents can help your brand truly stand out at different types of events.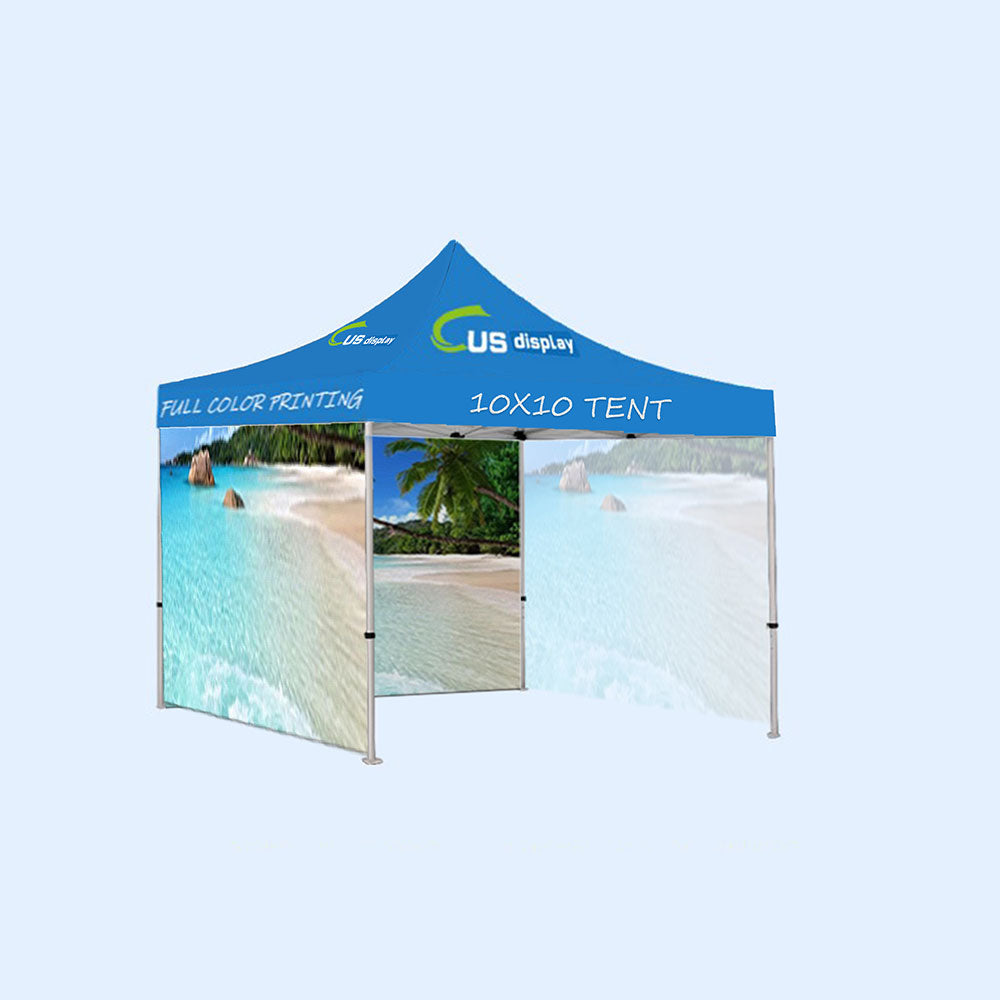 Branding with Custom Logo Tents
Branding is the core of any successful business. It's the visual and emotional connection that resonates with your audience, and events serve as the perfect stage to broadcast your brand's identity. 
In a trade show or any other event, a custom tent with logo is perfect. One of the most compelling aspects of logo tents is their portability. They travel with you from one event to another, extending your brand's reach far beyond the borders of your business location.
The same applies to sports events, where passionate fans gather to support their teams. Amidst the excitement and cheering, your logo tent stands as a silent but powerful messenger of your brand. It creates a sense of belonging and recognition, strengthening the bond between your brand and potential customers.
Customization for Every Occasion
Logo tents are designed with customization in mind. For a trade show, your logo tent can become a hub of interaction and engagement. You can include product displays, promotional materials, and comfortable seating to create a space where potential customers feel welcome to explore your offerings. The tent serves as a refuge in the midst of a bustling event, inviting attendees to linger and learn more about your brand.
In the context of sports events, logo tents can be designed to exude the excitement and spirit of the occasion. Imagine your tent adorned with team colors and emblazoned with your logo. It becomes a focal point for fans, a place where they gather to celebrate, engage with your brand, and create memorable moments.
Premium Logo Tents Designed for You
At Cusdisplay Shop, we understand the importance of creating a striking brand presence at events. Our Custom Canopy Tent 10X10, also known as logo tents, are thoughtfully designed to make your brand stand out. Here's why they're the perfect choice for your next event:
Tent Size: 10X10ft (3X3meter)
Our logo tents offer ample space, providing a prominent platform to showcase your brand and engage with event attendees. Whether you're setting up at a trade show or a sports event, this size ensures your brand is impossible to miss.
What's Included?
When you choose our logo tent, you receive a comprehensive package designed to meet all your event needs:
1x Premium tent frame

1x Printed tent top

1x Printed full wall

1x Set of ground pegs
With these components, you have everything required to set up your brand presence with ease and confidence.
Fabric for Covers and Walls: Durable and Weather-Resistant
Our logo tents are constructed with 600D Oxford fabric, ensuring both waterproof and fire-retardant properties. No matter the weather conditions, your brand remains protected and visible.
Our printing process is a game-changer. We use high-resolution dye sublimation printing, ensuring vivid and eye-catching colors. This method allows the colors to immerse in the fabric, not just on the surface, providing lasting brand impact.
Sturdy Tent Frame for Durability
The tent frame is anodized aluminum with a hexagonal 40mm diameter (lower leg) and 1mm thickness. Despite its strength, it remains lightweight for easy setup. The entire frame weighs just 16kgs, and the compact packing size (160X26X26cm) ensures portability.
Quick and Easy Set-up
With our logo tents, you won't need any tools. The setup process is straightforward and quick, allowing you to focus on making the most of your event.
We understand the importance of meeting deadlines. Our production typically takes 3 to 5 business days after proof approval. Shipping, handled by reputable carriers like UPS, TNT, DHL, or FedEx, takes 8 to 10 business days. Your logo tent will be ready for action in no time.
Our printing is done using dye sublimation, which means full-color printing comes at no extra charge. You have the freedom to design without color limitations, making your logo tent truly unique.
Custom Design Options
We offer design templates for your convenience. If you have a high-resolution logo, our team can create a design for you. Feel free to inquire about our design services.
The logo tents can be made in different sizes to meet your specific event requirements. Whether you need a smaller 5X5 ft tent or a larger 10X20ft tent, we've got you covered.
Explore Our Range of Logo Tents
In addition to our classic logo tents, we also offer inflatable tents. These inflatable options are equally customizable through high-quality dye sublimation printing, ensuring your brand message remains striking and unforgettable.
With Cusdisplay Shop, your brand's event presence is in good hands. Get ready to make a lasting impact with our premium logo tents. Order today!
Our Custom Pop-Up Tents with Logo
Our custom pop-up tents provide a spacious 10X10ft area, ensuring your brand commands attention at any event. The size is perfect for trade show displays and outdoor sports and business events. It's crafted from 600D oxford polyester, renowned for its durability, waterproof properties, and fire retardant design. This material ensures your brand remains visible and protected, regardless of the weather conditions.
Our comprehensive package ensures you have everything you need for a successful setup:
1x Premium tent frame

1x Printed tent top

3x Printed full walls

1x Set of ground pegs
Sturdy and Lightweight Tent Frame
The tent frame is made from anodized aluminum with a hexagonal 40mm diameter for the lower leg and 1mm thickness. Despite its robust construction, it's remarkably lightweight, with the entire frame weighing just 16 kg. The compact packing size (160X26X26cm) guarantees hassle-free transport.
Versatile Tent Sizes
In addition to our 10X10ft tents, we offer custom tents in a range of sizes, including 5X5ft (1.5X1.5meter), 10X15ft (3X4.5meter), and 10X20ft (3X6meter). This versatility allows you to choose the perfect size for your specific event needs.
With Cusdisplay Shop, your event presence is set to impress. Make a memorable impact with our custom pop-up tents, designed to elevate your brand's visibility and recognition.
You can also explore valuable industry insights on TSNN (Trade Show News Network) – visit here for more information.